No More than what you want, No Less than what you need







1 SCAN, 2 IMAGES
One scan with the Smart gives you not just a CT image but also an Auto Pano image.
This means, patients who require both images do not need to undergo two X-ray scans. Also CT and Auto Pano images are displayed within the One Viewer feature.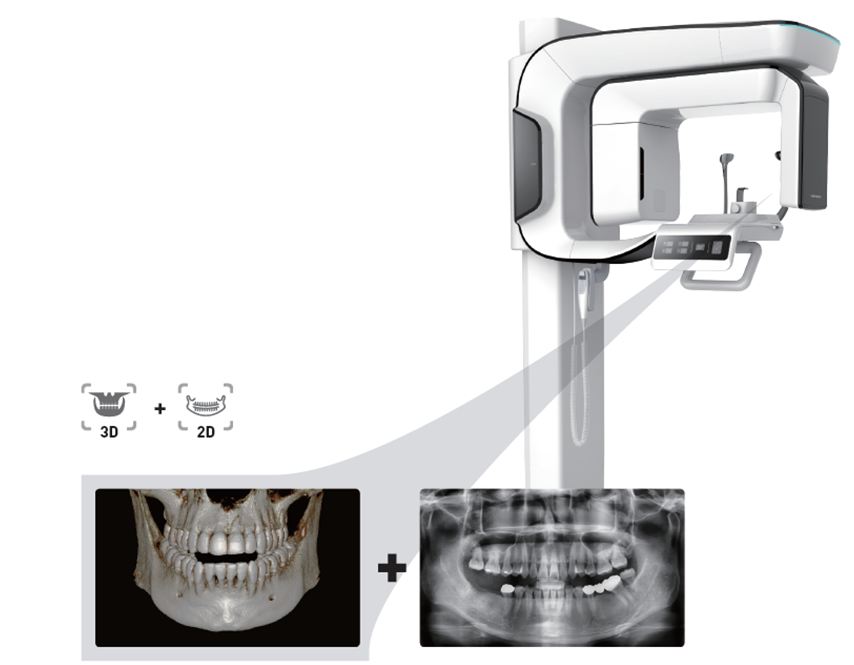 Practical 3 in 1 System
CBCT(with Auto Pano), Panoramic, Cephalometric
SMART Innovation for Low Dose
1 Scan, 2 Images
Low Dose and High Image Quality
ANATOMICAL FOV, 12×9
The innovative FOV of the PaX-i3D Smart provides an arch-shaped volume, which shows a wider view of dentition compared to other devices of the same FOV.
Normally, a FOV 10×8.5 image shows tooth #8. However, when the tooth is lying on its side, there is a high possibility that the tooth will be cut out of the image.
The "arch-shaped volume" eliminates this possibility and shows the hidden dentition area.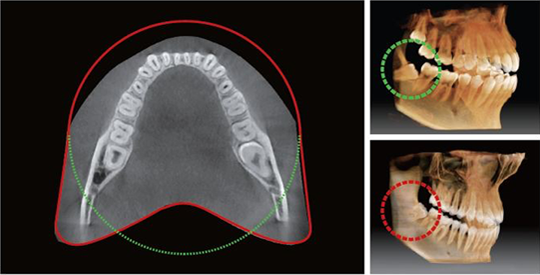 ART-V (ARTIFACT REDUCTION TECHNOLOGY OF VATECH)
Practitioners want to diagnose with a CBCT that doesn't get affected by metal artifacts and while still producing high 3D image quality. SMART MAR provides this powerful capability to its users.

ART-V OFF                                                         ART-V ON
PROFESSIONAL DIAGNOSTIC VALUE WITH PANORAMIC IMAGES
Smart Plus Provides the most precise and high quality panoramic image. Clear and sharp panoramic image brings you better diagnostics. Enhanced details especially in the anterior and dental roots can be viewed.
These consistently high quality images will become the new standard of panoramic imaging.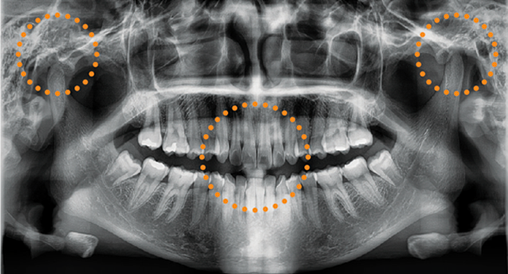 MAGIC PAN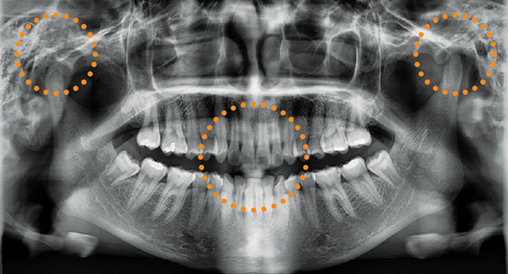 NORMAL PAN
MAGIC PAN creates a more superb panorama image. It is acquired through the elimination of distorted and blurred images caused by improper patient positioning(Optional).
Focused image is reorganized throughout the whole dental arch and the image quality can be increased. The image becomes clearer especially in the incisor and canine region, TMJ areas and root canal.
PROFESSIONAL DIAGNOSTIC VALUE WITH CEPHALOMETRIC IMAGES
Smart Plus provides optimal images with an exclusively designed sensor for cephalometric diagnosis.
SCAN TYPE CEPHALOMETRIC
Scan type cephalometric offers two image sizes, LATERAL and FULL LAT, you can choose one of them based on the purposes of your diagnostic needs.

Provide specialized high quality images to suit your need. Full lateral gives 30% larger images and the occipital orthodontics and maxillofacial surgeries' area of the patient for comprehensive diagnosis (optional).
PRODUCT CONFIGURATION
|   | CBCT | PANO | CEPH |
| --- | --- | --- | --- |
| PaX-i3D Smart | ● | ● | – |
| Pax-i3D Smart SC | ● | ● | ● |
SPECIFICATIONS (PAX-I3D SMART : PHT-30LFO)
Function
 CT(with Auto Pano) + Pano + Ceph
Focal Spot
 0.5mm
CT – FOV Size(cm)

 10X8.5(Anatomical 12X9 cm) : 5X5 / 10X7 / 10X8.5

8X8 : 8X8

Voxel Size
 0.08mm / 0.2mm / 0.3mm
Scan Time
CT
 18sec
Pano
 13.6sec / 7sec [Option with Magic PAN]
Ceph
 Scan : 12.9sec
Recon Time
CT
 Max. 90 sec. (10X8.5 / 0.2 Voxel Basis)
Pano
 Less than 2 sec
Gray Scale
14bit
Tube Voltage/Current
50-99 kVp / 4 – 16 mA
DIMENSIONS [UNIT : MM]