Beyond 2D, Depth Added Panorama





DEPTH ADDED PANORAMA, PaX-i Insight
PaX-i Insight is a step forward technology from the traditional way of acquiring images along a single focal layer. PaX-i Insight serves multi layers which add depth to panoramic image. Insight simply means more!
Find more information from panoramic image. PaX-i Insight allows you to have insight with the depth information.
It improves your diagnostic accuracy with increased treatment planning and patient satisfaction.
Insight Pan

The next evolutionary step forward in panoramic imaging with Insight Pan

Rapid Ceph

1.9 second acquisition time produces superb image quality
Reduced motion artifacts and faster workflow

User friendly EzDent-i software

Powerful diagnostic value with Insight feature
Complete solution for consultation
Easy to learn, easy to use
ADVANCED IMAGE SOLUTION WITH INSIGHT PAN
The next evolutionary step forward in panoramic imaging.
The PaX-i Insight is capable of taking a multi-layered panoramic image called an Insight Pan which provides a unique, in-depth look across a single focal trough.
Since each patient may have a slightly different arch, conventional panoramic images may occasionally miss important details which land outside of a single focal layer.
Insight Pans are capable of capturing multiple-layered images, ensuring that all details are captured in a depth-added panoramic image.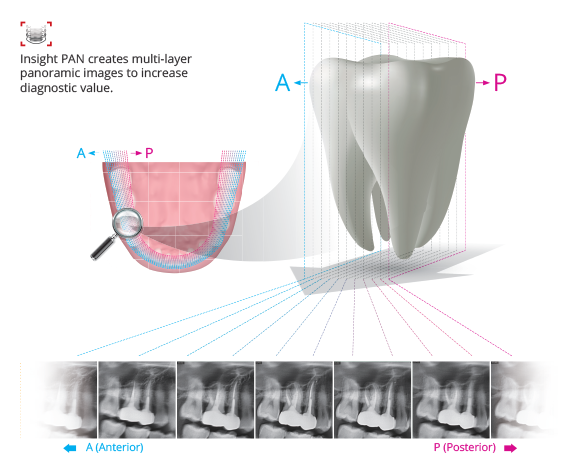 MINIMIZE MOTION ARTIFACTS WITH RAPID CEPH TECHNOLOGY
The next step in cephalometric technology, Vatech's new Rapid Ceph minimizes motion artifacts and enables faster diagnostic workflow while providing the highest quality digital images.
GREAT CLINICAL CARE WITH RAPID CEPH TECHNOLOGY

WHAT IS INSIGHT?
Our next-generation Insight Pans allow doctors to obtain never-before-seen in-depth diagnostic information, from anterior to posterior, on a digital panoramic image.
The Insight feature allows doctors to explore their region of interest while giving them the capability to find mesiobuccal, distobuccal, and palatal root information.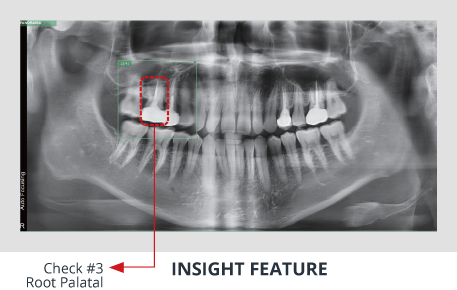 Use the PaX-i Insight's Next Generation Panoramic Technology to Discover:
Hidden multi roots and canals /  Location of pulp and gutta-percha / Broken files or root fractures
PROFESSIONAL DIAGNOSTIC VALUE WITH CEPHALOMETRIC IMAGES
Smart Plus provides optimal images with an exclusively designed sensor for cephalometric diagnosis.
SCAN TYPE CEPHALOMETRIC
Scan type cephalometric offers two image sizes, LATERAL and FULL LAT, you can choose one of them based on the purposes of your diagnostic needs.

Provide specialized high quality images to suit your need. Full lateral gives 30% larger images and the occipital orthodontics and maxillofacial surgeries' area of the patient for comprehensive diagnosis (optional).
PRODUCT CONFIGURATION
|   | PANO | CEPH |
| --- | --- | --- |
| Pax-i Insight | ● | – |
| PaX-i Insight RC | ● | ● |
SPECIFICATIONS (PAX-I INSIGHT : PCH-30CS)
* The specifications are subject to change without prior notice.
Function
Pano + Ceph
Weight
Without Ceph unit

95kg (209.4 lbs. – without Base)

135kg (297.6 lbs. – with Base)

Scan Time
Pano
Normal 10.4/14.0/21.0 sec
Insight PAN 10.4 sec
Ceph
1.9 sec / 3.9 sec
Focal Spot
0.5mm (IEC60336)
With Ceph unit

120kg (264.5 lbs. – without Base)

160kg (352.7 lbs. – with Base)

Tube Voltage / Current
60~99 kV / 4-10 mA
Gray Scale
14 bit
Dimensions
Without Ceph unit
990mm(L) x 1200mm(W) x 2300mm(H)
With Ceph unit
1930mm(L) x 1200mm(W) x 2300mm(H)