High-quality 3D imaging of the breast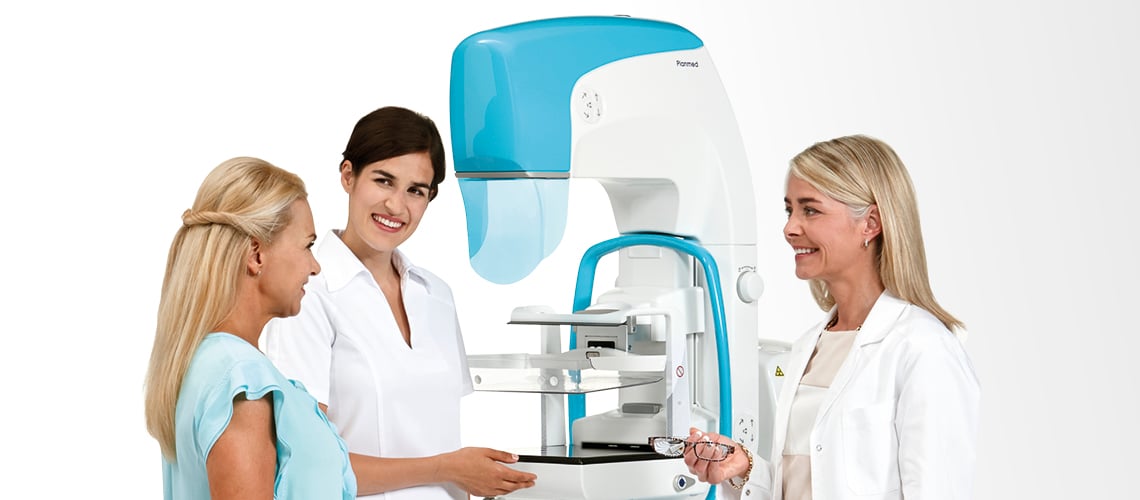 Tailored image quality
Planmed Clarity 3D is the most compact system for ultra-sharp digital breast tomosynthesis and digital mammography images. The synthetic 2D feature, Planmed S2D™, helps in the interpretation of images and enables easy comparison with prior images. In addition, the lower exposure to radiation and reduced compression improve patient comfort.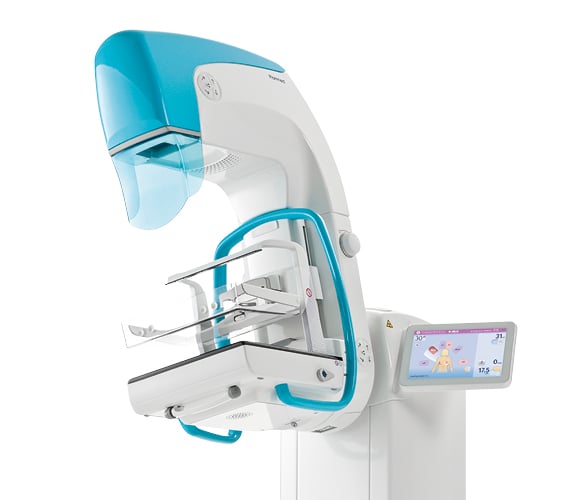 Ensuring the best possible image quality at the lowest achievable patient dose is an everyday challenge in mammography. With the help of leading experts in the field, we have been able to constantly meet the highest standards of patient care and safety – and then exceed them. The Planmed Clarity 3D digital breast tomosynthesis system has an outstanding image quality that adapts image processing to the radiologist's preferences. Image post-processing can also be tailored to the individual needs of each user.
Digital breast tomosynthesis and synthetic 2D image
Benefits of digital breast tomosynthesis
DBT generates a slice stack of the breast and the slices can be scrolled through. This resolves the overlapping tissue structures resulting in increased sensitivity and specificity.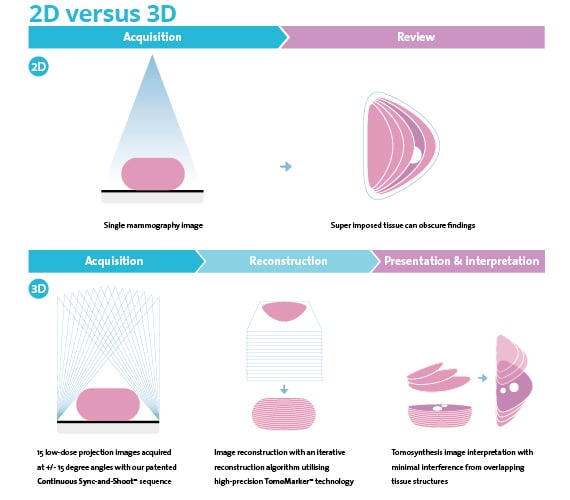 The Planmed way to digital breast tomosynthesis
Planmed's unique Continuous Sync-and-Shoot™ imaging method enables motion-blur-free tomosynthesis images that are exceptionally clear and provide a great visibility of microcalcifications and other delicate tissue structures.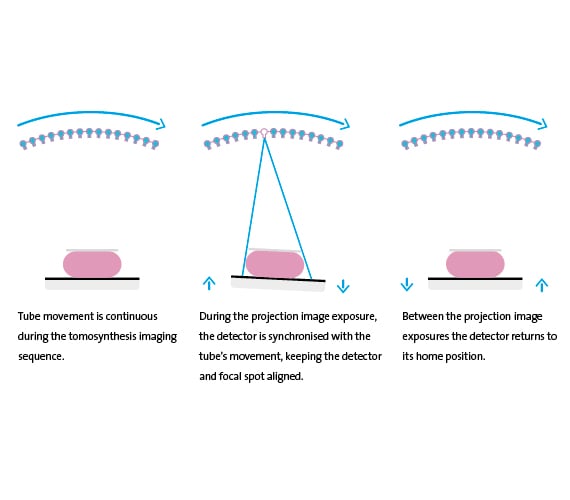 Planmed S2D™ – the synthetic 2D feature for Planmed Clarity 3D™
Planmed S2D™ is an optional upgrade for the Planmed Clarity 3D™ devices which allows creating a synthetic 2D image from digital breast tomosynthesis data. A synthetic 2D image enables getting an overview of the whole breast which may then be compared to prior 2D images. Moreover, the interpretation of microcalcifications and masses is easy with Planmed S2D as they are conveniently highlighted in the image without compromising image quality.
Benefits of synthetic 2D image
Synthetic imaging is used in combination with digital breast tomosynthesis as it produces 2D pictures derived entirely from 3D data, combining the individual, optimally enhanced 1 mm slices of a DBT image.
Synthetic imaging is widely used in many clinics worldwide, and in some practices, it has completely replaced the conventional 2D image. As synthetic 2D utilizes DBT data, there is no need to obtain a traditional 2D image. This means not only less exposure to radiation but also shorter examination times and reduced compression, thus improving patient comfort.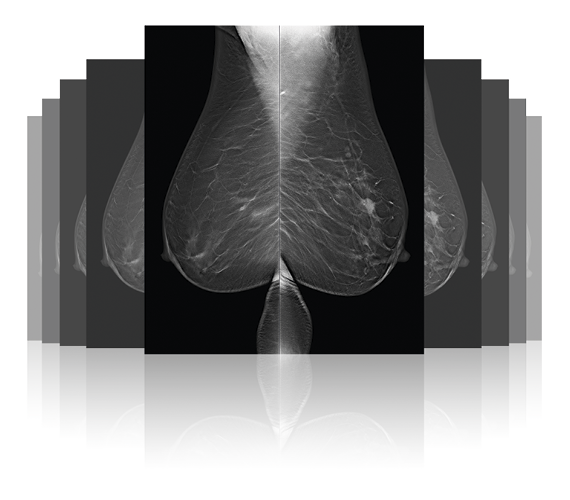 These clinical image examples showcase the perfected image quality that Planmed digital mammography and breast tomosynthesis systems deliver.
The images show all the delicate breast tissue structures which contribute to securing a correct diagnosis. With the Planmed tailored image post-processing, the image look can be adjusted to meet the varying needs of radiologists, leading to enhanced diagnostic confidence. The multiple post processing parameters are optimized for each image, whether it is a patient with high-density breast tissue or an implant patient.
2D images
The Planmed tailored image post-processing meets the demanding needs of all radiologists, whether you prefer smooth and low-contrast images or high-contrast images with a darker look.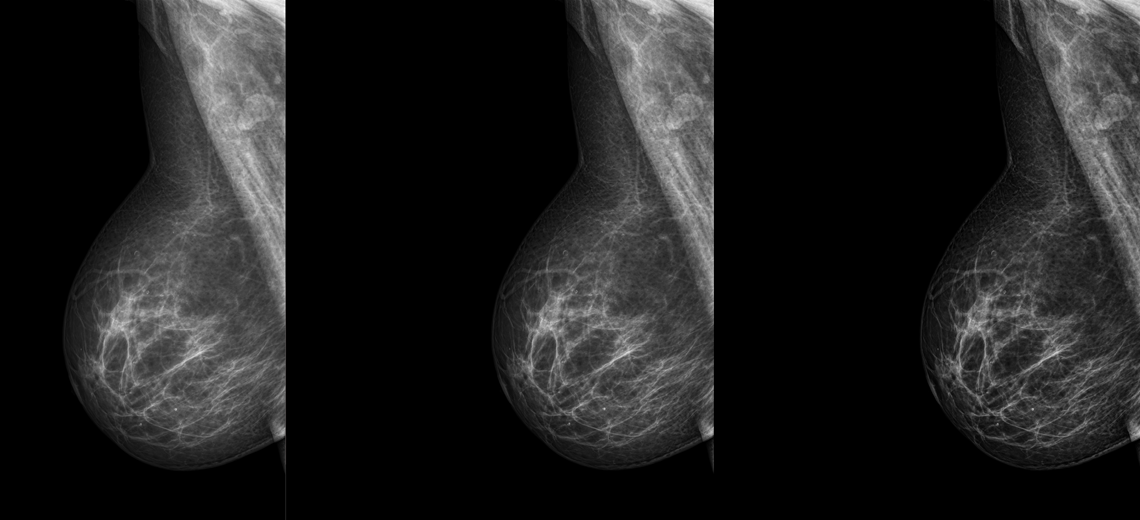 Designed for you and your patients
The Planmed Clarity™ Manager and Planmed Clarity™ Flow software provide a clear and simplified user experience. The customizable individual workflow eases the daily work of the technologists allowing them to concentrate more on the patient.
User comfort and optimal workflow performance are guaranteed by fully motorized functions, isocentric C-arm movements, and the ergonomic placement of unit controls. The Planmed Clarity Flow user interface with dual touchscreens enables easy access to the unit's functions. It guides the technologists through the different imaging modes as well as calibrations in a fast and easy way. In addition, the user can send prior images to the Planmed Clarity Flow software to ease the positioning.