ENDOCAM Logic 4K
The new Sharp. The new Authentic. The new Efficient.
Richard Wolf GmbH is taking image quality in endoscopy to a whole new level with sophisticated technology for pin sharp 4K resolution. The precisely coordinated system components guarantee realistic image reproduction. At the same time, the system is energy-efficient, ergonomic and compact. Intelligent processing algorithms, referred to as Special Imaging Modes (SIM), allow structures that are difficult to discern to be rendered more clearly.
4K means a resolution of at least 3840 x 2160 pixels, four times that of the existing HD standard. To get this pixel power on the road, Richard Wolf is effectively pooling its areas of expertise: telescope, light, signal processing and the latest production technology are merging to create a solution from a single source.
The platform and its components
ENDOCAM Logic 4K Camera Controller
Brilliant 4K resolution with either 3840 x 2160 pixels or 4096 x 2160 pixels
Compatible with all application parts and camera heads of ENDOCAM Logic HD
"Special Imaging Modes" (SIM) included for differentiated visualization
Extremely easy to use thanks to the pre-programming of clinically-devised presets for various disciplines
Default user settings can be saved without any effort at all
High-resolution images and videos saved on USB storage media
Compatible with corenova theatre integration
SIM – Special Imaging Mode
In addition to the standard naturalistic white image rendering, 6 different digital algorithms – Special Imaging Modes – are optionally available to the user. In certain situations, these algorithms can improve tissue differentiation. The preset SIM is switched on and off simply by pressing the camera head button.
Thanks to special structure enhancers, flat and blurred image content is vividly rendered with special structure enhancers true to the original color shades.
Dark image areas are brightened and very light, overexposed areas are made darker.
ENDOCAM Logic 4K Camera Head
An Ergonomically-designed camera head that is pleasant to the touch
Top quality metal Material
4K resolution generated from 3 x 1/3 inch CMOS image sensors
Camera cable can be replaced in the hospital by technicians
Autoclavable, disinfectable and gas sterilizable (V-PROTM 1), suitable for STERRAD NX
ENDOCAM Logic HD Camera Heads
ENDOLIGHT LED 2.2
Extremely extensive lifetime of the LED – up to 30,000 hours
Outstanding energy efficiency – consumes approx. 80% less power than xenon lamps
Almost silent thanks to the innovative cooling system
Flicker-free constant brightness
Virtually constant illumination throughout the lifetime
PANOVIEW Ultra telescopes
Improved edge sharpness and optimized sharpness profile across the entire endoscopic image
Advanced high-tech fiber optics with extremely high light transmission
Optimal illumination of the endoscopic surgical area
Natural color rendering
Available in both standard and bariatric length, in 5.5 mm every 0° / 30° and 10 mm every 0° / 30° / 50°
Flexible sensor endoscopes
MAMBA vision: Flexible sensor cystoscope
210° upward and downward articulation
Large 7.5 Fr. working and irrigation channel
Sheath diameter 16.2 Fr.
Atraumatic, beveled tip with 11.5 Fr. Diameter
Two distally-integrated LEDs
"Special Imaging Modes" (SIM) for improved tissue differentiation in certain situations
Two programmable camera head buttons for four different functions
Ergonomic handle with axial camera cable
BOA vision: Flexible 1-channel sensor ureterorenoscope
Currently the finest flexible 1-channel sensor URS on the market
Ergonomically-shaped handle with axial camera cable
Atraumatic, beveled stainless steel tip
Working and irrigation channels 3.6 Fr.
Active 270° upward and downward articulation
Currently the only sensor URS to fit into access sheaths from 9.5 Fr.
Especially suitable for narrow ureters (e.g. child urology)
COBRA vision: Flexible 2-channel sensor ureterorenoscope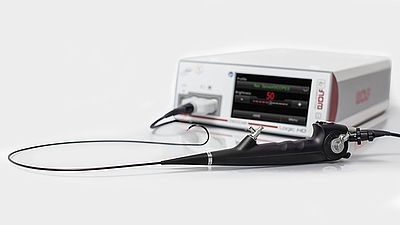 Currently the only flexible 2-channel sensor URS on the market
Ergonomically-shaped handle with axial camera cable
Suitable for access sheaths from 11 Fr.
Atraumatic, beveled stainless steel tip
Working and irrigation channels 3.6 Fr.
Laser channel 2.4 Fr. – for laser fibers up to max. 365 µm
Active 270° upward and downward articulation
Optimized irrigation performance with enlarged, central working channel for mono-irrigation
Ideal laser and instrument channel position, the advantage being that stone concretions are much easier to localize.
4K monitors
Special presets for outstanding visualization of the ENDOCAM Logic 4K image
Available in 31 or 55 inch version for a perfect overview
Easily wiped clean thanks to smooth front side
Highly luminous, anti-reflective OptiContrast Panel™ for vibrant and high-contrast image
Fusion light cable
20% higher light transmission
Extremely high temperature protection
Amplified service life
Highly resistant to chemicals
Easier to handle and less susceptible to fiber breakage with improved flexibility and steel kink protection
Evolution4K Recording System
Bringing digital sharpness, clarity, and convenience to the OR, Evolution4K Digital Video Recording System is a complete digital recording and documentation system that captures up to 4K video and images from a HDMI camera source and stores captured media with patient information. It also offers the benefit of duplicating captured videos and images to USB devices for documentation, storage, and presentation.